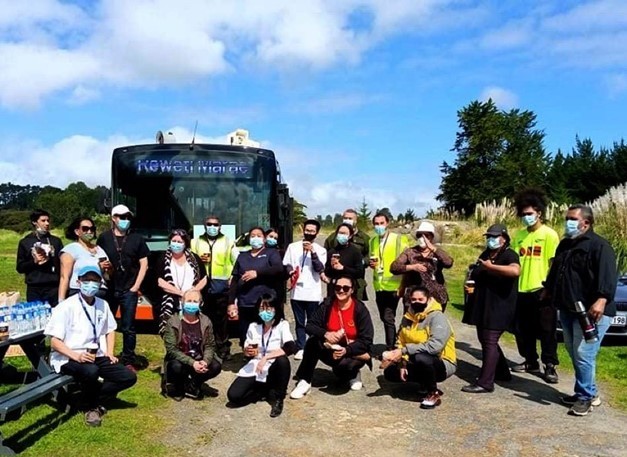 Foundation North has been pleased to support efforts across our rohe to increase vaccination rates and protect whānau and communities from COVID-19.
Last month in Northland, Reweti Marae Trust received funding to deliver vaccination and testing to whānau and community across the South Kaipara region. A 'by Māori for Māori' kaupapa, the Marae has set out to drive up the vaccination rate in the area, which was only at 56.7% first doses when the request for funding was made.
"We identified a need to provide health care in a new way that can help meet the health needs of our South Kaipara community," says Angela Perawiti of Reweti Marae. Throughout the pandemic, the Marae has been active in the community offering COVID-19 support and SIQ kits, as well as being used for drive-through vaccinations and zero-contact kai pick-ups.
Foundation North funding is supporting the Marae's vaccination campaign, particularly for prizes to incentivise turn out, and the cost of full-time staff. To date, 157 people have received vaccines as part of this initiative.
Increasing levels of trust and debunking myths around vaccinations are key to the success of this work.
"Our dedicated team of 6 kaimahi (staff) are working with whānau to reduce misinformation and provide correct information about COVID-19 and the need for vaccinations across South Kaipara," says Angela. "Whānau need to know who and where they can get support at times that best suit them, and in venues that are appropriate."
Reweti Marae says that the pandemic has meant that open mainstream systems have had to think outside of normal practices.
"COVID-19 has created opportunities to make decisions at a grass roots level, based on community needs, rather than what is nationally or systemically the norm." Says Angela.
Foundation North wants to make sure that organisations working to respond to COVID-19 are supported to meet the immediate and emergent needs of their communities – call us on 0800 272 878 to find out more.