Our Kaumātua
Kevin Prime
In November 2009, the Foundation established the role of Kaumātua to help guide, support and challenge Trustees and staff in their endeavours to implement an organisational commitment to Te Tiriti o Waitangi.
Kevin Prime is the Foundation's Kaumātua and is of Ngatihine, Ngati Whatua, Tainui and Welsh descent.
Kevin is a commissioner with the Environment Court, as well as being a beef farmer, forester, beekeeper and conservationist. Prior to his appointment to the Environment Court, Kevin worked with a variety of organisations in the profit and non-profit sector in the areas of philanthropy, health, conservation, justice, Maori development, education, environment, forestry, farming and sport. He is married to Margaret with 13 children and 19 grandchildren. His hobbies are family, sport, golf, bee keeping, learning new things, and his favourite holiday spot is at home on the farm in Motatau. In 2016, Kevin was recognised in the Queens birthday honours list receiving an Officer of the New Zealand Order of Merit for his services to conservation and Māori.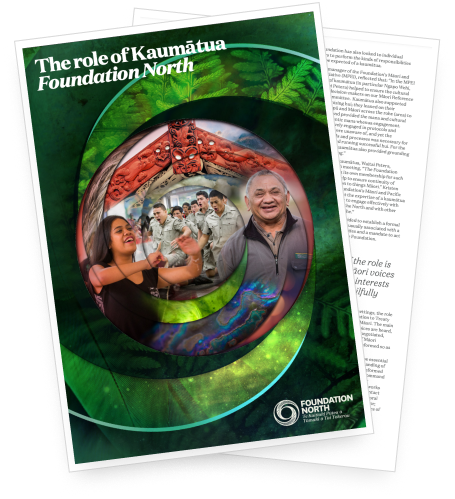 The Role of Kaumātua
The Foundation has published a booklet outlining the context, role and responsibilities of the Kaumātua at Foundation North, which may serve as a useful guide in other organisational settings.