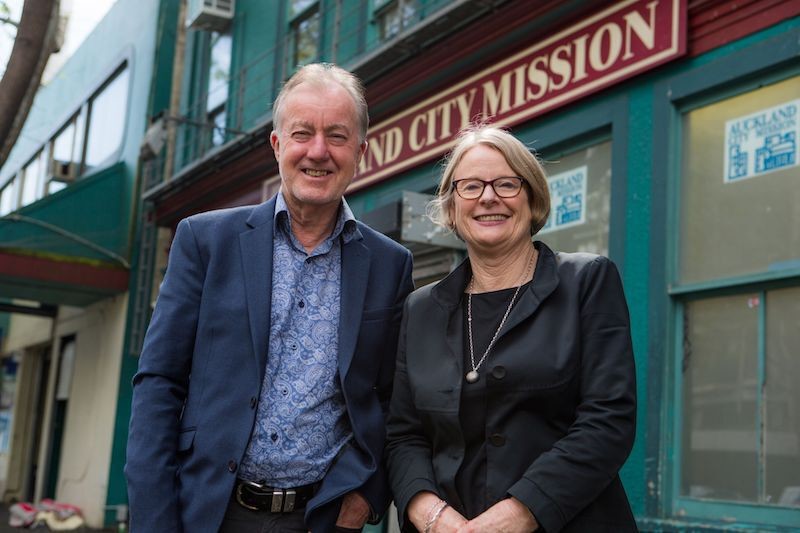 Auckland City Mission is currently meeting the needs of homeless and vulnerable Aucklanders out of their temporary home in Union St in the CBD, while construction work gets underway for Mission HomeGround. This transformational new facility in Hobson Street received $10m from Foundation North's Iconic Reserve Fund in October last year.

From Monday 10 December the Mission began distributing its emergency Christmas food parcels and presents – but instead of doing that from Hobson Street, thanks to enormous community support, this year they are operating out of Eden Park, the Ngā Whare Waatea Marae in Māngere and Papakura Marae.
Missioner Chris Farrelly says over the years people have had to travel at great cost from South Auckland to get assistance.
"We are thankful our clients will no longer have to queue from midnight outside our Hobson St building just to ensure a little Christmas joy for their families."
Wyn Osborne, CEO of Manukau Urban Maori Authority's (MUMA) Ngā Whare Waatea Marae said. "MUMA has a longstanding partnership with the City Mission and it is only fitting that we open up Ngā Whare Waatea Marae for this purpose. Our goal is and always has been - to serve whānau in South Auckland. This is at the core of everything we do. As kaitiaki, or guardian, of our community it's a privilege to be part of this collective effort to share a little extra Christmas spirit with whānau,"  
Tony Kake, the CEO of Papakura Marae adds "We are absolutely committed to serving our local community in this way.  If our support can bring cheer to a family or a smile to a child's face over this festive season - awesome!  Manaaki Whānau I nga waa katoa".
Eden Park CEO Nick Sautner said the stadium is thrilled to be able to play a part in bringing some joy to families in need.
"We are committed to utilising the Park for more than just rugby and cricket and to have the opportunity to support a worthy cause like the City Mission this festive season is fitting."
Eden Park itself received $6.5m from our Iconic Reserve Fund for stadium redevelopment in 2008.
This Christmas, the Mission in partnership will:
Provide 8,000 Christmas emergency food parcels, enabling families to celebrate Christmas at home;
Distribute 15,000 presents to Auckland children who would otherwise not receive a Christmas present, including through other community organisations;
Host 2,000 guests at its Christmas Lunch; and
Continue to be there every day for Aucklanders in desperate need.