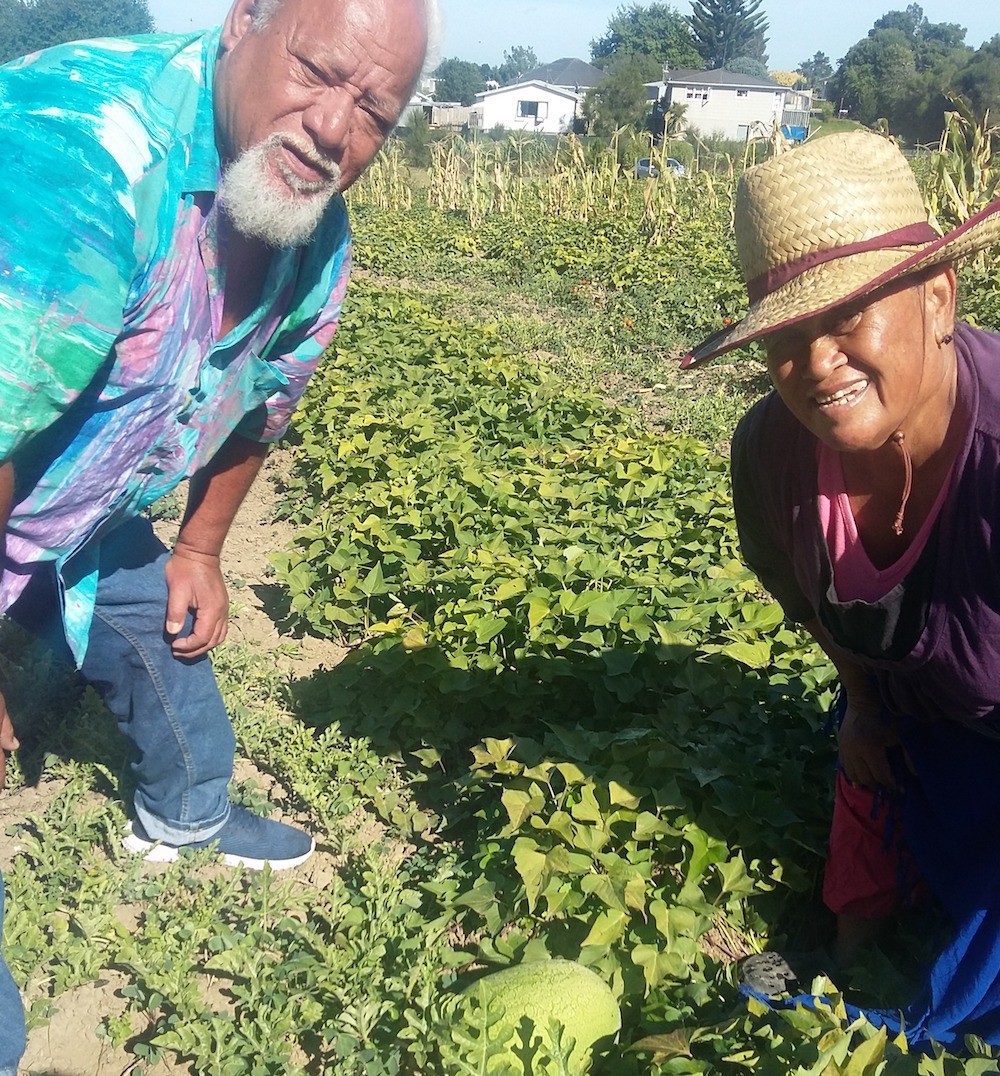 Several community garden projects have been flourishing throughout South Auckland's Pacific communities, and none more so than the plentiful harvest in the Papakura area of Kerri Downs Reserve.
The green fingered duo of the Kerri Downs Reserve garden project are veteran gardeners Tiulipe Hunt and Silivakai Tafea, both from the Umataha Papakura Tongan Community Association (UPTCA). Their gardening team is mostly local neighbourhood volunteers, along with UPTCA members. Hunt serves as group secretary and Tafea as chairman.
On the day of our visit, Hunt and Tafea were busy working in their garden path, the size of two rugby fields, checking on rows of kumara, watermelon, spring onions and peas – just some of the many vegetables they have managed to plant, grow and share with their community.
Hunt, who has a long history of starting-up community garden projects, says she had longed for a shared garden space in the Papakura region, so she approached the local council for support.
"We didn't have a location, so I went to council and asked for their permission to create a community garden so we could grow some vegetables," says Hunt. "It was hard to begin with because we didn't have anything. All we knew was that a garden would help bring people together and growing our own vegetables would also help us save money and eat healthy".
Hunt says local council suggested they contact Foundation North for support and that led to a much-needed grant which helped purchase some garden essentials as well as help pay its volunteers who have put in a lot of manual labour and hours to get the garden up and running. 
"When we first started there was just a few of us, but we could see the locals near the reserve were getting curious and then some of them would come down and ask us what was happening and ended up helping us," says Hunt. "It's been a community effort because during harvest time, everyone helps and everyone gets fed. We know that the houses on the fringes of our garden are always keeping an eye on the garden, so we make sure they share in the harvest too."
Tafea, who has lived in the Papakura area for more than 35 years, says the garden is a place for everyone, not just Papakura's Pacific community, but also a place for diverse cultures in the Papakura area to learn more about starting a garden and the importance of growing their own vegetables.
"Before I came to New Zealand, being able to tend and work the garden was a part of our every day life," says Tafea. "Being able to do this for my community is a reminder of all the things I've learned and how important it is to be able to provide for our families."
Hunt and Tafea are preparing for a final harvest in mid-April, where rows of kumara and other root vegetables will be ready for sharing. A community celebration will precede planting its next crops before Winter sets in.
Since its inception last September, the garden has helped to feed about 180 people in 38 families and expects more people at its mid-April harvest.
"Our little garden is growing because of everyone who has come to help us and look after it. We haven't had any problems with people vandalising or stealing from our garden because the people who live close to it are like the guardians of the garden . . . they look out for it and they look out for us," says Hunt. "Sometimes when we have to work a long time in the garden and it's hot, these houses come out to bring us food and drink . . . that's when we feel that we're doing something important here and that it can benefit all of us."