Moemoeā
Our vision:
Whatītike oranga
Enhanced lives
Tā tātou whāinga
Our purpose:
Pūtea kaitiakitanga, hāpai oranga.
To enhance lives through responsible guardianship of our investments and focussed funding, anchored by our commitment to Te Tiriti.
Ngā ūara
Our values:
Kia kotahi te hoe

Paddling in unison

Whakamana

Enabling, uplifting and reinforcing

Ako

Listening, learning and understanding

Me mahi i roto te tika, te pono, me te aroha

Doing the right thing with respect and care
We are becoming a more strategic grant maker.
We are committed to ensuring that, while continuing our traditional community support funding, our focus will increasingly be on working in partnership with grantees and other funders to achieve projects of greater scale and impact for the communities of Auckland and Northland. With our funding, we are aiming to create significant positive change through supporting innovative projects and practices. To help organisations succeed we will prioritise additional support to assist selected organisations to develop their capacity and capability.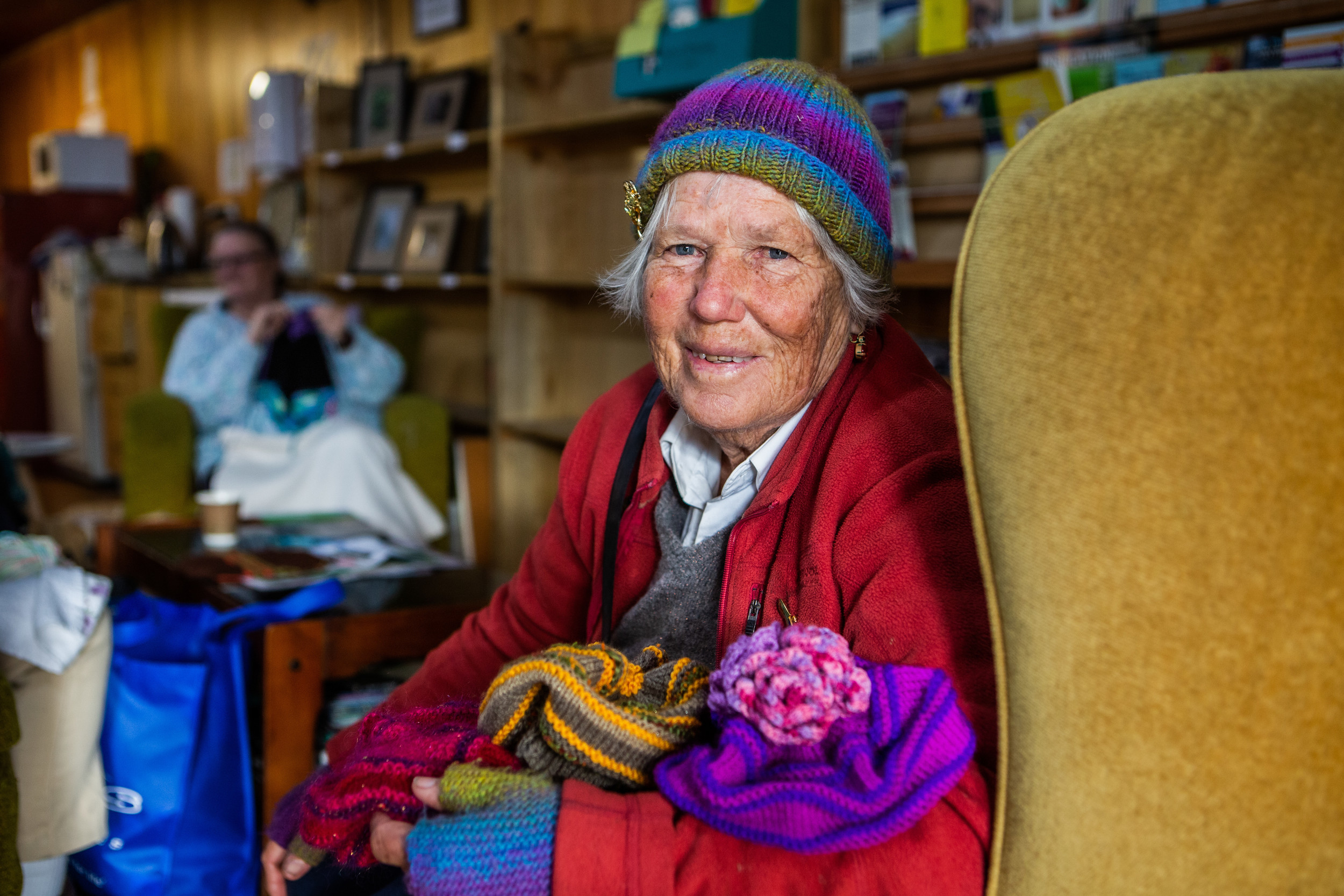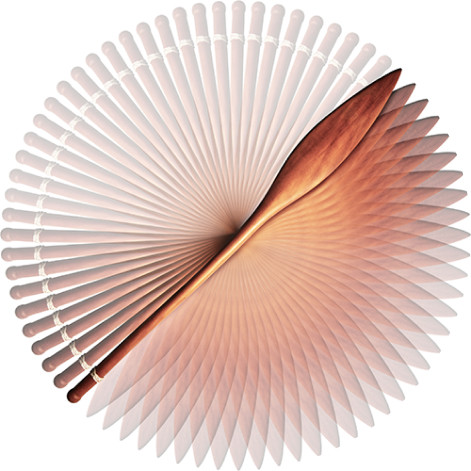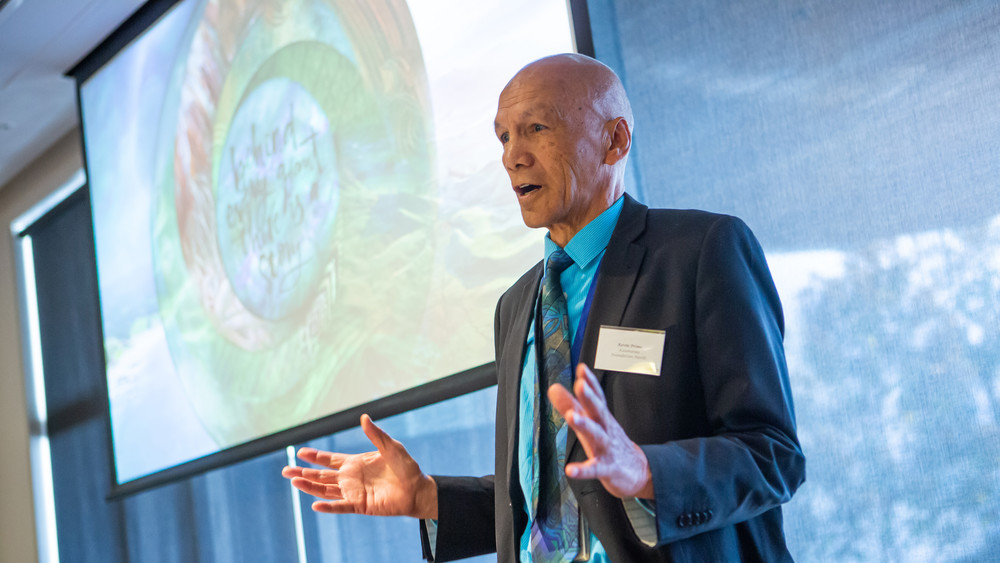 Our Compelling Story
Paddling in unison, the Foundation North waka sweeps the surface of the moana, heeding the call of our communities and offering innovative approaches for change.
We set out thirty years ago
Our journey began on 1 May 1988. Funds from the sale of the community's shares in the Auckland Savings Bank Ltd created the ASB Community Trust and, more importantly, a pūtea or endowment. This pūtea remains our responsibility in perpetuity. We are the endowment's vessel for strategic investment so it generates funds to help our communities thrive.
We ensure this pūtea has safe passage across the vast oceans of time. Our role is to deliver funding and support for initiatives, large and small, that respond to the aspirations of our communities now and for generations to come.
When we first set sail, the Trust found a sure course and consistently contributed to our community. We gave responsive support at a sustainable level. We focused on protecting our fund from economic turbulence.
Collaboration propels us
Our progress has been possible because we've travelled alongside others, our waka journeying with many. In 2006, our $20m Māori and Pacific Education Initiative (MPEI) saw us sharing deeper trust and building capabilities on both sides. The initiative has helped remove barriers to educational achievement for Māori and Pacific taitamariki and rangatahi.
In November 2009, we established the role of Kaumātua. We are incredibly privileged to have the gentle wisdom of Kevin Prime, our Kaumātua, to help guide, support, and challenge us to play our part in committing to Te Tiriti o Waitangi.
We responded to a growing tide of opportunity
We soon recognised a growing opportunity to help our communities in Auckland and Northland. We lifted our sights to a broader horizon.
In 2015, we relaunched as Foundation North. We changed our name, but kept to our course. We combined impactful mahi with community-led solutions to achieve intergenerational impact and systems change.
We're seeing new waves of impact
Learning new ways of being, equipped with insights from our MPEI mahi, gave us the confidence to embrace greater degrees of innovation, forge new ventures and collaborations. It's helped us create a new wave of community-led impact. Through exercising our value of Ako, we launched:
A social enterprise, the Centre for Social Impact (CSI).
A high value, high trust multi-year grant programme, Catalysts for Change.
An innovation fund to restore the mauri (life essence) of the Hauraki Gulf – G.I.F.T, the Gulf Innovation Fund Together initiated in 2016.
It hasn't all been smooth sailing, but we've never been more buoyant. COVID-19 has affected many of our priority communities. Our grant making continued during COVID-19 and has been a beacon in helping vital organisations navigate this successfully. It was during these unsettling times that our support honoured our values of Whakamana and we made our first impact investment.
We'll go further together
In 2020, we further defined ourselves by describing our intention to support initiatives large and small to respond to their communities now and for generations to come.
We remain focused on our communities through another of our values, Me mahi i roto te tika, te pono, me te aroha (Doing the right thing with respect and care). Our systems keep us proactive and adaptive. We are dedicated to growing our cultural intelligence and competence as we paddle forward together.
We remain true to our purpose – our guardianship, in the past, at present and in the future of our pūtea, and to our vision of Whatītike Oranga – Enhanced Lives.
Ko te tohu o te hoe
Kia hoe ngātahi ngā kaihoe
Kia tere te waka
Kia tae tika ki te whāinga
The symbolism of the paddle is
That the paddlers pull in unison
That the waka sails true
That the waka moves quickly
To reach the destination.
- Kevin Prime, Foundation North Kaumātua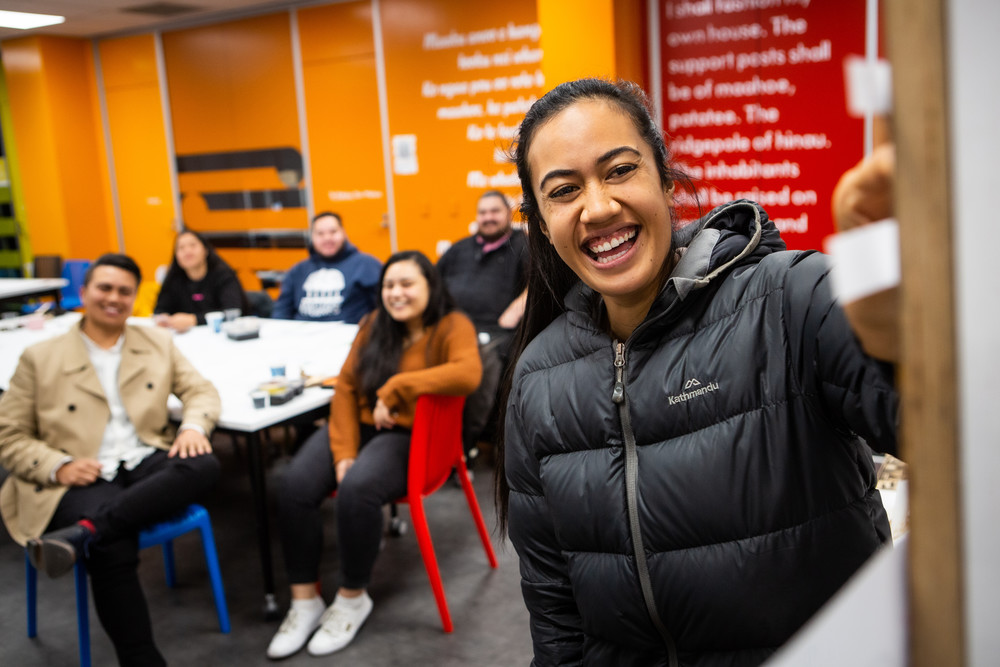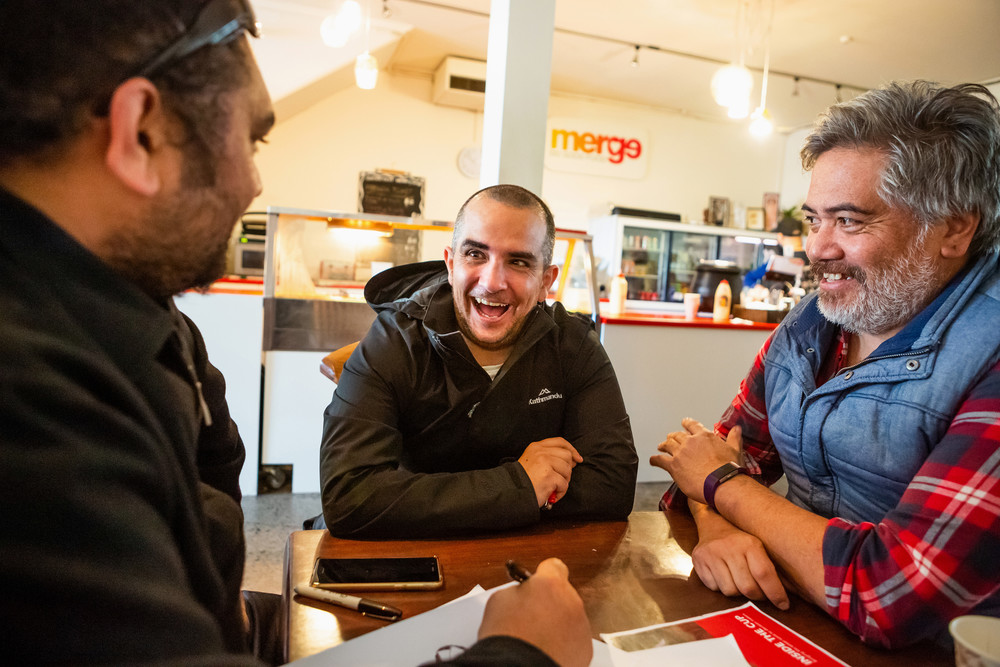 Grantmaking for innovation & systems change
Foundation North recognises that there are no easy answers to some of the challenges facing the region, and that new ways of working need to be encouraged and supported. We've been on a journeyto grow our understanding and practice in innovation and systems level change.

Read more about some of this mahi in our Reports section and on the G.I.F.T website.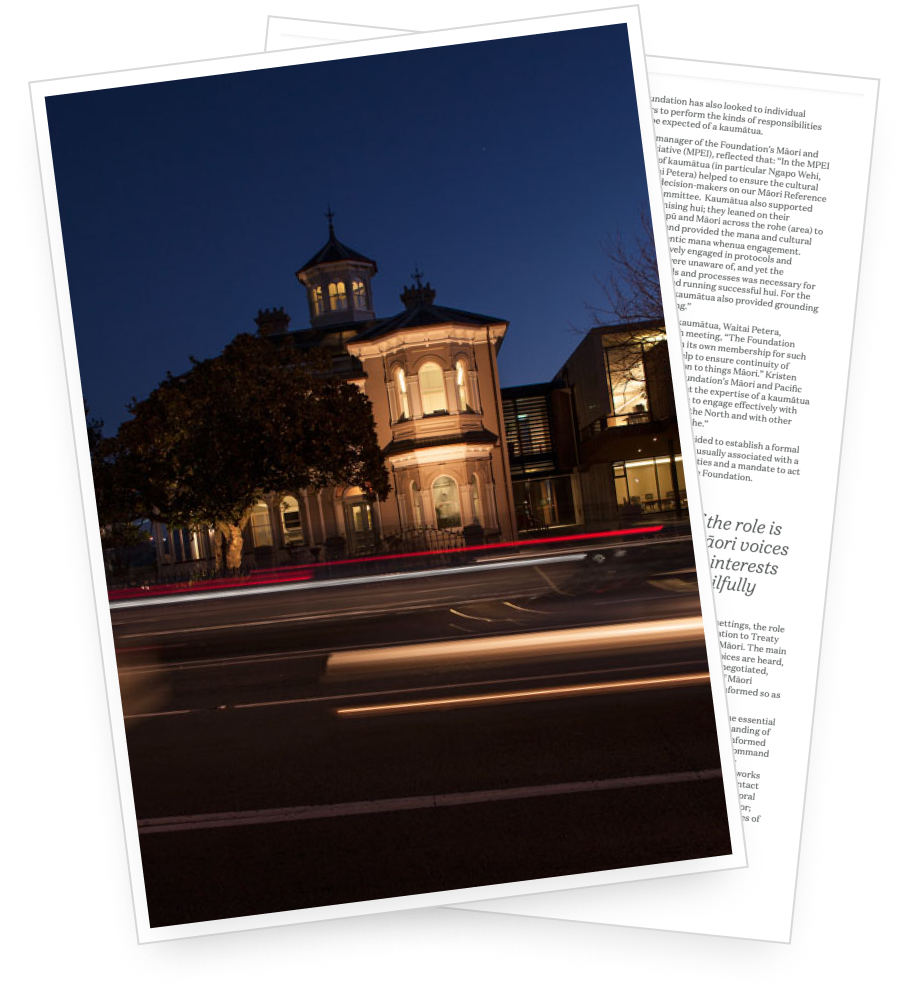 The Published History of Foundation North
In celebration of their 20th Anniversary in 2008, Foundation North was gifted a commemorative book named "Te Kaitiaki ō Te Pūtea: The History of Foundation North 1998-2008".
Copies of the book are available by contacting the Foundation on 09 360 0291, or email info@foundationnorth.org.nz